Screeds
warning students about the impracticality of graduate education in the humanities
are a dime a dozen. But maybe it's not the education itself that is the problem, but instead the way that said education is structured. For a long time, leading professional organizations like the
Modern Language Association
(MLA) and the
American Historical Association
(AHA) have watched profound changes in the academy take place, yet they have not done anything substantial to revise what graduate education looks like.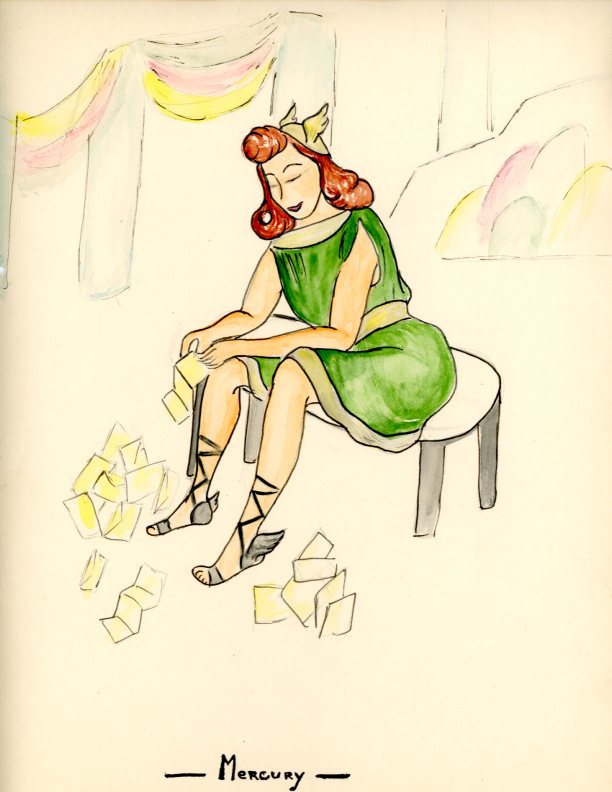 A character sketch from the 1943 College Night Production Materials, which are housed in the Annie E. Crawford Milner Archives. This item was digitized by Taylor Kerr in HIST 411 Digital History.
Finally, it seems, that's not the case anymore. As was discussed on the
most recent episode of the Digital Campus podcast
, the Andrew W. Mellon Foundation has
awarded the AHA a $1.6 million grant
to assist four prominent history departments as they restructure their doctoral programs. The AHA has recognized that the process of educating people to conduct research and teach in universities across the country is not sustainable. The problem isn't just that people who study history aren't getting jobs. It's much greater than that. Instead, the technological developments and rise in digital culture has transformed the acts of producing and consuming history (for more on this, see N. Katherine Hayles's
How We Think: Digital Media and Contemporary Technogenesis
). Now, "producing history" requires a vastly expanded array of digital literacies and information seeking skills.
This is why the Mellon Foundation awarded the grant to the AHA, which will in turn fund four programs: UCLA, Columbia University, University of Chicago, and University of New Mexico. According to James Grossman, executive director of the AHA, the grant will
help create curricula that train doctoral students to find employment in business, government, and the nonprofit world
, thus "widening the presence and influence of humanistic thinking" outside of academe.
So what would such revised curricula look like? Examples include:
New "clinic" courses to examine how history intersects with public organizations
Training with digital tools for work in archives, libraries, and museums
Project development that is policy-oriented and reaches out to the public
Work with presentation strategies that are more common outside of higher education
At the University of Montevallo, we believe that this revised educational model should begin at the undergraduate level. In the past year, several history classes have developed with national trends in mind and have begin to implement digital history methods into the classroom experience. Robert Barone has facilitated successful archive projects on
The History of Ireland
and Medieval European History. John Bawden has taught an upper-level course in producing digital history. That class
worked on a digital archive
that produced collections associated with our archives. Similarly, Carey Heatherly is in the process of teaching a class on
Oral History
in which students interview members of the campus community and create digital records of those interviews.
We hope that students will gain skills that transfer to many contexts, not just graduate school in the humanities. Further, we hope that their work will lead to an increased body of knowledge produced by the university. Take some time today to visit the library for our History Day event, and while you're here, check out some of these digital projects.